Scanjack 3500 
The Scanjack 3500 is a Mechanical Mine Clearing System.The only system on the market equipped with double flails that has the ability to clear Anti-Tank mines and Anti Personnel mines. It is capable of clearing in a range of 10 000 - 30,000 m2 per day.
The system has been extensively tested by different organizations; one of them the Swedish Armed Forces at the Swedish EOD and Demining Centre, SWEDEC. These tests, performed according to the CEN Workshop agreement 15044, were carried out in different kinds of soil conditions, including gravel, sand and clay. Average clearance rates for AT-mines at 100% and AP-mines at 98.2% were obtained with mines deployed down to a depth of 30 cm. Blast tests with 5 and 10 kg AT-mine detonations showed only marginal damage on the system.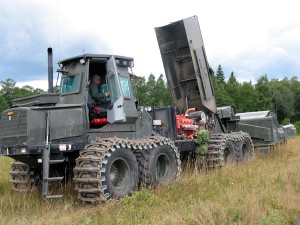 With a design policy of maximum benefits for the users of Scanjack 3500, COTS (Commersially On The Shelf avialable components) has been used extensively. The John Deere forwarder 1710D is used as  platform for the product and a 16 litre SCANIA V8 engine supply power for the effective double flail.High ground clearance, double boggi with tracked rubber wheels ensure maximum safety for the operator.

At present we can sell a Scanjack 3500 ready for operation at a price of € 1,75 mill, for GPS and remote control € 100k is added. We can also deliver a container equipped with a  complete field workshop for € 200k. You are welcome to ask for detailed quotations.

Using a Scanjack 3500 will result in comparatively very low costs per square meter for released land.