Humanitarian Demining in Croatia
Humanitarian Demining service in Croatia, manual teams, machine operators and dog leaders are employed for the projects currently in operation.
The Scanjack is working all year around despite the bad weather conditions during winter time.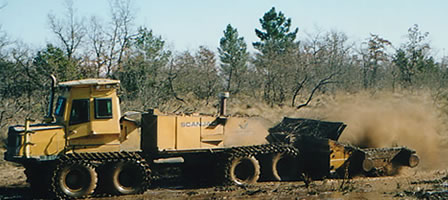 The Scanjack 3500 was tested and certified for Mechanical Mine Clearance in the Republic of Croatia in November 1999. In the beginning of year 2000 a subsidiary in Croatia was formed, Scanjack d.o.o., in order to start a demining operation utilizing the Scanjack 3500. The subsidiary was licensed for demining in March 2000 and since April the same year the MCV has been in full operation. From November 2001 a second Scanjack 3500 was introduced to support the demining operations in Croatia.
No personal injuries have occurred during the entire operations since the start and the Machine downtime due to technical problems is below 2%.
The total number of mines detonated, destroyed or removed during the operations amounts to: 1165 AP-mines, 2150 AT-mines and 1050 UXO's.