UN´s World Food Programme (WFP) placed in 2005 a contract for the delivery of one Scanjack 3500, including trailer and service truck. The Scanjack system was put into operation in southern Sudan near Juba.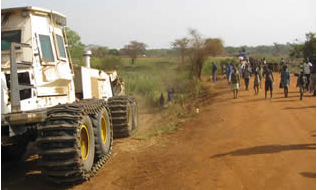 The main objective is to clear road corridors to allow the WFP do dispatch emergency
food aid to Southern Sudan by road from neighboring countries rather than by air which is
much more expensive.
Later on the machine has been transferred to Somalia for future work in making the infra structure safer.