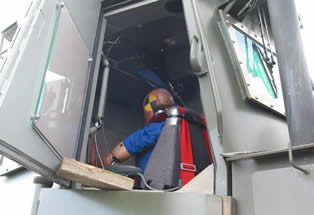 The Scanjack 3500 has undergone tough tests to verify that the product meets the requirements for operator safety and international mine action standards.
One of the tests was to verify the safety for the operator. Survivability was tested by detonating a 10 kg AT-mine under a wheel directly under the cabin. The test was done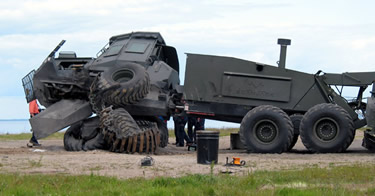 in accordance with STANAG 4569, ed 1, annex B, level 4. Safety belts and ear protection were used.  An accident like the test would not have injured the operator and through this it has been proven that Scanjack 3500 is the safest mine clearing machine on the market.
Technical consequenses
• Engine M1 destroyed
• Left bogey broken
• Track partly destroyed
• Parts of panels bent
• Small damages in cabin
 Repair time two days
�
Undamaged parts
• Cabin with drivers seat
• Frames and drive line
• Engine M2 with pumps
• Oil and diesel tanks
• 7 out of 8 wheels